SQ10 – INTERACTIVE TARGET FOR 10 METERS COMPRESSED AIR WEAPONS
THE TARGET: AN ULTRA-FLEXIBLE INTERACTIVE ELECTRONIC TARGET FOR ALL SPORT SHOOTERS
SQ10 is an Interactive Electronic Target created for Sport Shooting with 10 meter compressed air weapons. Whatever your preference – pistol or rifle; novice, recreational shooter or competitor – SQ10 will take you from training to competition, with an added element of fun.
From a tablet, you choose the image displayed on your target, and control your training sessions with the click of a button.
SQ 10 is robust, easy to install and affordable to operate ("Plug & Shoot"), for clubs and individuals (home shooting).
FEATURES: TARGETS FOR TRAINING, LEISURE AND COMPETITION
We want to create new possibilities for Sport Shooters, trainers and clubs with our large library of training exercises, a range of fun activities (games, moving and random targets, etc.) and a challenge mode, and thereby increase the appeal of Shooting Sports.
CHARACTERISTICS: INTERACTIVE, VERSATILE AND SCALABLE TARGET
Interactive Electronic Target with a transparent polycarbonate plate and a high luminosity display (1,600 Lux)

For rifles and pistols up to 7.5 joules (Olympic discipline)

Distance simulator for home shooting

Affordable and easily interchangeable top plate for greater durability

Pellet recovery

Automatic communication via WiFi or Ethernet with SynQro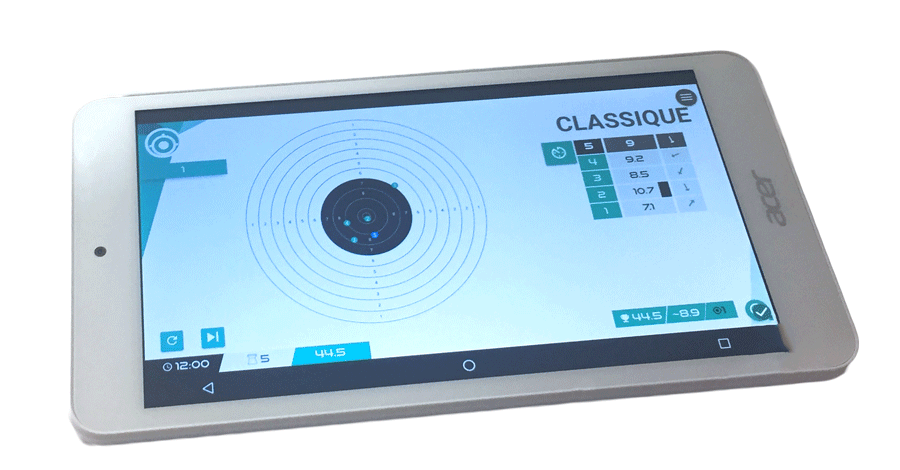 Sportquantum Interactive Electronic Targets are designed to measure the position of the actual real impact of a projectile on a plate equipped with piezoelectric sensors. The visual of the shot is displayed on this plate, which turns into an interactive screen.